"

Vix is an accomplished Blues Aficionado, with a huge presence and a voice to match. "
— The Courier Mail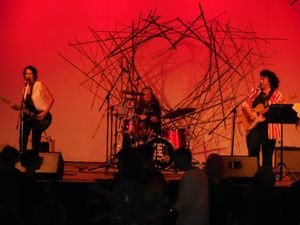 About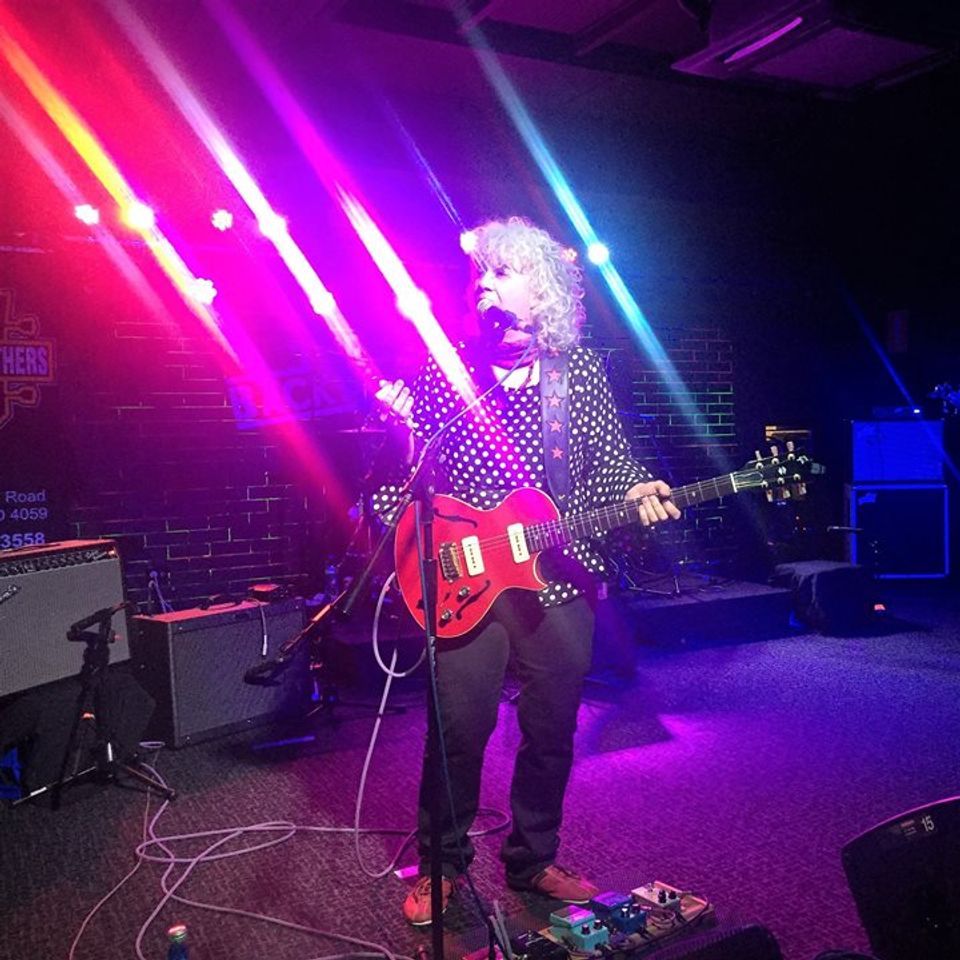 Vix and the Slick Chix
Award winning Blues, Soul, R & B Band
A  BIG sounding little Three piece all female band that rocks the house!!
Straight up and into it, your ears are blessed and your feet cannot be stilled.
'The Chix' incorporate  their own original music with high energy Blues and Soul classics to raise the spirit and fill the dance floor!!
But what really sets this band apart is their passionate & joyous energy, It's purely contagious and makes a 'Chix' performance everything a live music experience should be, and more!
Their style pays homage to the many & varied sounds of the blues, from the Classic Chicago Style of Jimmy Reed and Koko Taylor to the soulful grooves of Aretha Franklin & Otis Redding.
There are a lot of bands out there but there is no-one like Vix and the Slick Chix.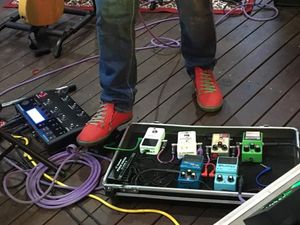 Chix News
October 2023
Well we have finally set the date for our T-Shirt draw!!! 
THE VENUE
This special event will be held at the Palmwoods Bowls Club on Saturday December 16th.
The Bowls club is located in walking distance from the Palmwoods Train Station.
The club boasts 2 big dance floors, very well priced drinks and 'Smoking Billys' Bistro will be open and serving meals from 5:30pm. Check the menu link here. https://www.facebook.com/smokingbillys/menu/...
THE TALENT
We have enlisted the talents of fellow Sunny Coast Band, 'Palomino III' to play the opening set and get ya all primed & loose!!
About Palomino III 
Palomino III blaze a trail along the fringes of traditional music. 
The secret of this little powerhouse ferments somewhere between their spin on vintage rockabilly and Americana cowboy blues.
Stripped back and unbound by genre or era, their style has been likened to
"a hefty dose of moonshine with a twist of sarcastic melancholy..."
"The guitar riffs and upright bass jangle alongside standout vocals with an upbeat lyrical imagery..."
With impressive Rockabilly Roots festival performances across Australian states, including Australia's iconic Greazefest, and internationally with their mothership group, at Belgium's renowned Muddy Roots Festival, this is an act not to miss!
https://www.facebook.com/palominoIII
I'm sure you already know what a great groove they lay down, and for those that haven't had the privilege….I reckon ya best be wearin' your dancing shoes.
Around 8 pm The Slick Chix will take the stage, bringing their signature style & Goodtime Vibes, to carry you through the rest of the evening.
THE COMPETITION
We are hoping that many of our Tee Shirt Competition entrants can make it for the draw & as an added BONUS, If you ARE in the room on the night, and your name is drawn as the winner, we will add an Extra Hour to The already awesome prize…….Bringing the 2 hour concert on offer to a Full 3 hour gig!!!
2nd Bonus -Wear your Chix Tee to the gig or purchase one on the night and you'll receive a ticket in to THE SLICK CHIX special Xmas Raffle.
3rd Bonus- Everyone who has entered the T-Shirt comp this year and is at the draw will receive a Voucher for a discounted hire rate for the Chix to play your next party.
There's still time to be in it, to win it…. Check our competition flyer on FB for more details.
It's gonna be a massive night, with 2 of the Sunny Coasts Premier Bands to keep ya dancin', and plenty of good time vibes to be shared.
June 2023
As the momentum of T-shirt competition rolls on strong, we find ourselves in need of yet another Merch order….due to arrive any day now. We were just testing the waters last time with our Raglan order…. we know Vix loves it but didn't realise just how many of you were gonna dig that style!!! So we have a larger order of those on the way & We have ordered some XS sizes of our Organic as requested by many.
We have also added one more style…. A racerback singlet for the ladies which will be available in XS, Small & Med.
And a gentle reminder ….. don't forget to post your pics and tag us to get your entries in the draw. 
February 2023
It has been so lovely to have so many beautiful souls jump on board with our T-Shirt competition….. Your  support for small independent artists like ourselves means the world to us and really helps in allowing us to continue to do what we love, create new music and spread more joy at our live gigs! 
So much so that we have put in a new Merch order and have added a couple of styles. Our styles are chosen to mimic the style of each of our band members….so this time we are adding a Singlet  befitting the style of our Lovely bass Player and a Raglan, (Baseball Style Tee) to sit perfectly in Vix wardrobe.
Check out the website merch page for something that might suit your style too!
We also have a new stubby cooler on offer…lord knows that fits with everyones style!!!
January 2023
 As you probably know "The Chix" have some new Merch & we just wanted to let you know about a little competiton we are running….. 
The Prize????  
The winner will receive a FREE 2 hour House concert from Vix and the Slick Chix, either at your place or the venue of your choice. (Within our regular gigging radius) If you would like to be in the draw you'll need to complete the following 3 tasks:- 
1. Buy one of our Quality, Pesticide free, Super comfy, Organic Cotton T-shirts. 
2. Come to any Vix Gig -Band, Duo or Solo, wearing your Slick Chix shirt and take a picture with Vix or the band. 
3. Post the picture to Facebook & Tag Vix and the Slick Chix or Vix Bluesinger Music or Tag Both names to receive 2 entries! 
To which we will reply -"You're in the Draw" 
You can do this at as many gigs as you'd like through out the year and each time, you will receive another entry. 
The competition will run all year long and be drawn at the Final Chix gig of 2023. (Date to be announced)
August 2022 
 At last….The Chix have some new Merch on offer…..After a very long spell without, the Chix finally have some new Tees and Muscle Tanks!!! Hit us up at a gig if you want us on your chest or check out our online store.
January 2022
Well this january we find ourselves fully immersed  and well into rehearsal for yet another wonderful season of
 "A Girls Guide to World War".
As always the Slick Chix will be at the core of the Band for this awe inspiring Musical and have suspended their usual gigging routine.  
This season we have a wonderful addition to the band &  are enjoying the great privelidge of working along side the uber talented Sue Moxon who brings untolled flavour to the musical score with her cello & piano. skills. The show is set to open at Brisbane's  Powerhouse  for a 3 week season on Feb 3rd.
July 2020
We are SO excited at the prospect of getting back to playing live gigs any day now!!! Check out the gig guide for our newest Post-Covid dates.
October 2019
We are holding our very own Blues Dancing event on Saturday 26th October. 
We realised earlier this year that blues dancing really has not come to the coast, so we are bringing two amazing instructors from Brisbane's Premier Blues dancing school "Dance the Blues", to work their magic for us here on the Sunny coast. 
Joel & Jody have been teaching Blues dancing for quite a few years now, and their experience shines through in their ability to impart their knowledge quickly and concisely to their students. Their relaxed and humorous demeanor just serves to make 
their lessons all the more enjoyable. 
This will be a ticketed event and will be held at The Palmwoods Bowls Club.
For the price of your entry you will receive a one hour Beginners Blues dance Class that will teach you all the fundamentals of Blues Dancing and will give you enough awesome new moves to dance the rest of the  night away to "Vix & The Slick Chix". I promise you this will be a lot of fun and a night to remember. Get your tickets at https://www.trybooking.com/BEQTT
The tantalizing Fengs kitchen will be open and serving his usual array of delicious and very affordable Chinese Food & The Palmwood Bowls Club provides 2 massive dance floors & a full bar for when you inevitably you work up a thirst. 
Tickets are available online for $20 /$15 concession or at the door for $25 / $20 concession. 
So why not get a group together and come out for an enjoyable evening? You may make some new friends & will definitely leave with some new skills! 
Book your Tickets online now - https://www.trybooking.com/BEQTT
September 2019
Yet again this year we will be playing our part as the core band (and actors) in The Truly inspiring New Australian Musical
"A Girls Guide to World War"
Rehearsals have begun & the show is looking better than ever. We have a paired back, all female cast this year and the season is quite short so make sure you get your tickets early......it WILL SELL OUT!!
Anyhow, what that all means is, The Chix will only play a limited amount of live shows during September  & October. But check out our gig guide for the dates we are doing and come say Hi.
May 2019
The Chix will be headlining The Timewarp festival in Palmwoods this month. If you've never been ya gotta check it out. Hot rods, muscle cars, Cool Bikes, retro everything and rockabilly & Blues bands galore.
April 2019
The Chix are delighted to tell you we have been selected for a spot in the Blues tent at this years Gympie Music Muster. which will be held Aug 22-25. We are super pumped about it and can't wait. We'll be recording & videoing  the set to possibly make a live at Gympie Muster Album later this year. We're puttin together a show so hot we're hoping to burn a hole on the blues stage and set the tent on fire. I truly hope ya'll can get along to see it.
November 2018
The Chix have taken most of November off from gigging, to work on a project that is close to our Hearts. 
As many of you know 'Vix & Slick Chix' met 20 years ago, playing in the 'Vulcana Womens Circus' band, 
so we are delighted to be returning to the theatre as the core band for this brand new Australian Musical. 
The show is called- " A Girl's Guide to World War " & the completely original score was written 
by our super talented Bass Player, Aleathea Monsour. 
It tells the astonishing true story of a courageous group of women who go to the frontline in World War 1. 
Starring musical theatre legend Susie French as Dr Lilian Cooper, Australia's first female surgeon. 
Join the adventure as Australia's fearless heroines find freedom, power and passion on the frontline. 
Come along for an unforgettable night of live music, tears and laughter. 
The Slick Chix will not only be providing the soundtrack for this incredible show, but some of us will also be making our acting debuts!!
August 2018
We are SO delighted to say we picked up our Phenomenal new 'Blackbird' TLA 1.4 P.A system from A.T Technologies in Brisbane today. What a beast it is!!! I fell in love the first time i heard one of these systems and knew right then i just to have one. I've heard and played through a lot of different systems over the years, but nothing even comes close to the clarity and fullness the Blackbird puts out. Many Thanks to Harry and the team at A.T  Seventeen Mile Rocks.
June 2017- 
Vix and the Slick Chix have moved........ We are now  based on the beautiful Sunshine Coast and we couldn't be happier!!